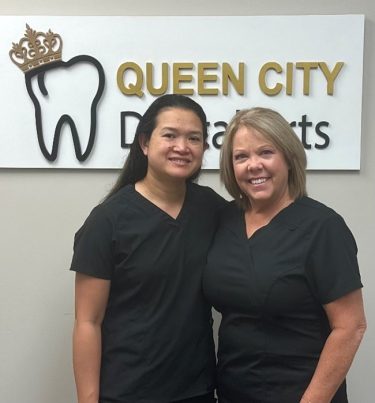 October is National Dental Hygiene Awareness Month so we wanted to share with you a few fun facts about our two amazing hygienists!
Lisa has been a hygienist for over 30 years, and 15 of those are right here at our practice … so many of you have known Lisa for years.  Lisa and her husband, Greg, have a son and a daughter, and their lives changed quickly with the arrival of their first grandchildren within 4 days of each other in 2022!  When Lisa isn't cleaning teeth here at QCDA, she and her husband enjoy spending time in Charleston with their daughter and granddaughter and with their son and grandson here in Charlotte.  "I love being a hygienist and establishing a long-term relationship with my patients," Lisa says.  "It's rewarding when I can see that the little tips I give patients make a difference in the overall health of their mouth."  Lisa makes a difference in all of our lives just by being herself and making us smile every day.
Kim joined our practice in 2022 but has been a dental hygienist for over 20 years.  Although she is originally from Florida, Kim and her husband have called Charlotte home since 2009.  Outside of work, Kim somehow manages to balance being a mom to their six-year-old son (and picking up a lot of Legos!) with gardening, traveling and cooking.  Although she makes a mean ginger chicken stir fry, she's not too proud to admit that dinner sometimes consists of Sushiya Japan, their favorite take-out spot.  "Dental hygiene is a perfect fit for me because not only do I get to help people reach a better level of health, but I also love getting to know my patients on a personal level."  Not only does Kim help her patients to feel good about their smiles by helping them to maintain their dental health, it's hard not to smile when you're around her because of her genuine and friendly personality.