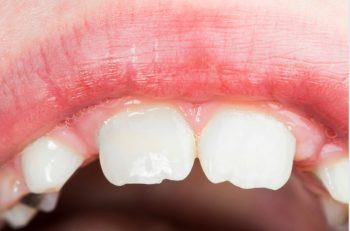 It seems like common sense; baby teeth fall out, adult teeth come in. But sometimes there are certain teeth that don't ever come in, and it's not because they're impacted or stuck in the gums. When this happens, it could be because a tooth is congenitally missing, which means a person is actually born without a permanent tooth. Another word for this is "hypodontia", which is the medical term for being born without some of your teeth. Some people with hypodontia are missing one tooth, and others can be missing multiple teeth.
You may have a congenitally missing tooth or know someone with a congenitally missing tooth. In fact, between 2% and 8% of the population has this dental condition. Any tooth can be congenitally missing, but more often than not, it happens to upper lateral incisors and lower second premolars. It appears that having a congenitally missing tooth is often passed down through genetics, but it is also more likely to happen with certain conditions, including cleft lip, cleft palate and Down Syndrome.
Having a congenitally missing tooth, especially in the front of your smile, can be reason to be self-conscious, but missing teeth can also potentially lead to other dental problems, like trouble eating, bone loss and shifting of other teeth. Fortunately, with today's dental advancements, we have the ability to replace missing teeth. The first step is to visit us at Queen City Dental Arts in Charlotte, North Carolina. We'd be happy to discuss options with you to get on your way to a healthier, natural-looking smile. We invite you to schedule a consultation with our experienced dentist, Dr. Meghan Stenvall to learn more about treating missing teeth in your smile. Please call 704-542-6533 today!